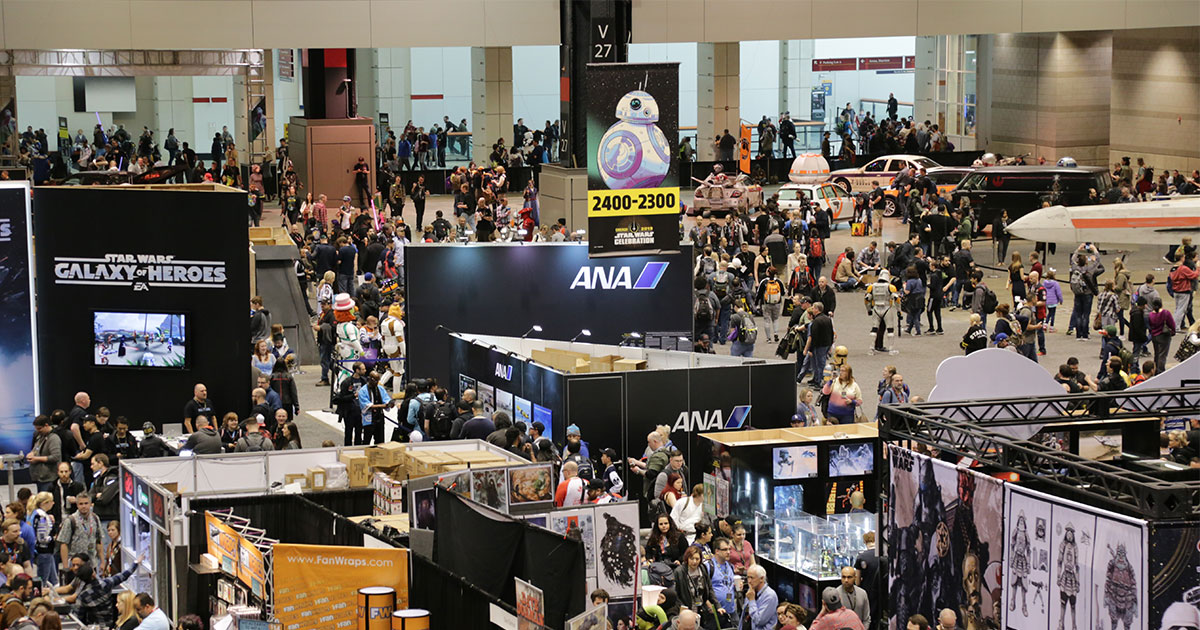 STAR WARS CELEBRATION CHICAGO 2019 CONCLUDES AS HUGE SUCCESS. More than 6,000 High-spirited Visitors Packed the ANA Exhibit Stand.
Star Wars Celebration 2019, staged at McCormick Place, Chicago, Illinois, concluded on April 15 as a huge success.
During the five-day event, ANA's open drawings attracted 4,500 Participants during the Event.

We held an open prize drawing every day with four different exclusive prizes to be won, including three types of ANA STAR WARS™ JET model planes as the top prizes.  Plenty of enthusiastic fans got all fired up, saying things like "May the Force to be with me and help me win!"  The number of excited followers of the Star Wars saga who turned up to enter the drawing every day, with hopes of claiming not only one but possibly all of the different prizes, often resulted in long lines at the ANA stand.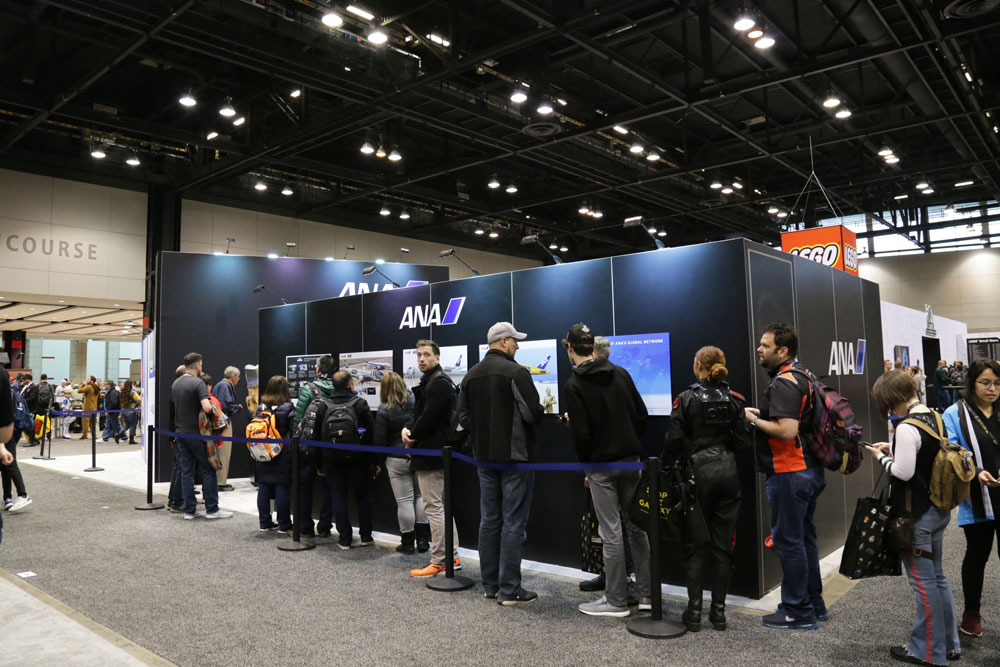 At our photo booth, visitors had their pictures taken sitting in actual Business Class seats and many of their smiling faces were posted on social media.

Some visitors who'd attended STAR WARS CELEBRATION 2017 in Orlando, Florida stopped by to talk to us again this time and told us how much they'd enjoyed spending time at our stand there, while other visitors came by and shared with us stories of their fun-filled experiences flying in one of our ANA STAR WARS™ jets.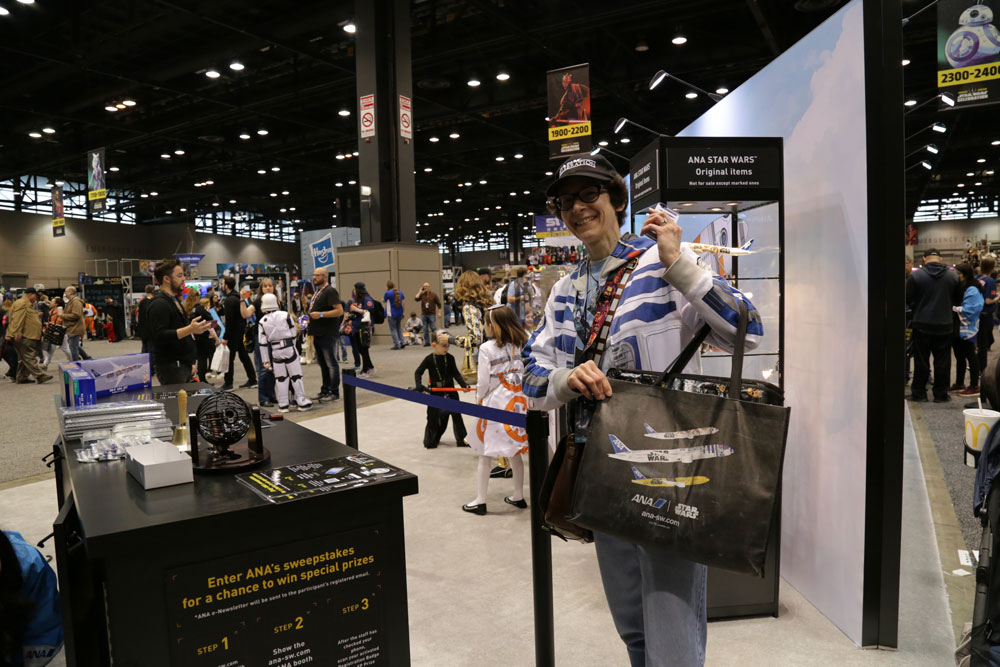 Highlights of this year's celebration included the long-awaited release of the trailer for the next STAR WARS tale, along with the upcoming movie's title, The Rise of Skywalker, and special stages set up to introduce Star Wars: Galaxy's Edge, the largest ever single-theme addition to the Disney parks that will open in the US in this coming summer; and The Mandalorian, the first Star Wars live-action series to be aired on web TV, which will premiere in the US later this year.  With features like these to take in, the entire venue of this year's Celebration was packed with thrilled fans throughout the five days of the event.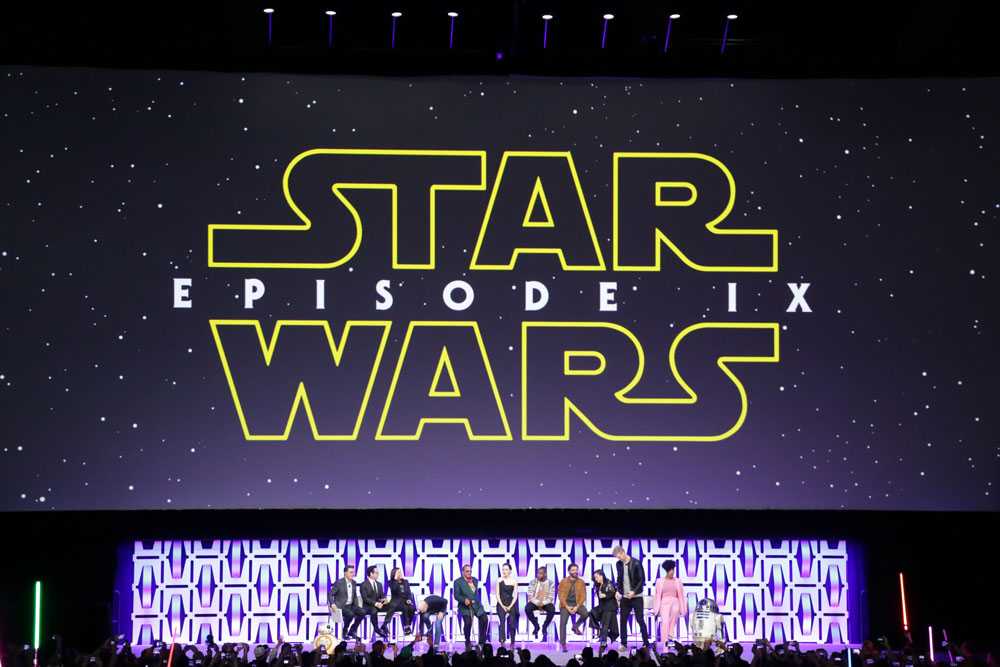 ANA continues to operate safe, comfortable, and enjoyable flights brimming with our world-renowned hospitality.